Think of any heightened security scenario – a short-term event such as a music festival is setting up for a weekend, a VIP is visiting a company, an industrial turnaround – and the need for professional assistance becomes clear. When you're in charge of organizing such an event, it's up to you to determine how many additional employees are brought in to provide that help, and what level of experience they bring to the table.
When you work with off-duty police officers, it's easy to imagine what kind of training background they have received. The practical education given to peace officers today is one of the most compelling reasons to hire them for private security needs, as these are individuals who have received intensive preparation to handle the scenarios they may encounter in the course of performing their off-duty roles.
Defined by their knowledge
Recent years have seen an intensive focus on getting police officers optimally trained to serve and protect their communities. These efforts can benefit other companies in the area that hire officers during their off-duty hours. PoliceLink contributor Andrew Hawkes explained that the training and vocational education received by police officers is an integral part of their identity. With a background in everything from high-tension emergencies to courtesy and people skills, these are well-rounded professionals.
The role of peace officer has always been complex, and it has only grown more multi-faceted and complex over time. Hawkes pointed out that to deal with this intensifying trend, a greater percentage of officers than ever before are entering the force out of college, potentially with degrees in criminal justice. Reaching the police force and continuing to operate in such a role is a matter of constant learning, and the skills acquired go well beyond the basics.
Some of the physical scenarios that officers train to be ready for – for instance, defusing a violent situation without escalating the problem – make them especially well-suited to security roles. When hiring personnel to provide safety at an event or facility, the hope is always that force won't be needed. If it is, however, a trained police officer is someone who has been prepared to act responsibly and effectively.
Defending against violence and making effective responses are two of the cornerstone abilities that define the police officer role. Everything from placing individuals in handcuffs safely to protecting oneself hand-to-hand is part of the expertise picked up on the police force. And, these skills are in sharp contrast to the "observe and report" skills of a security officer.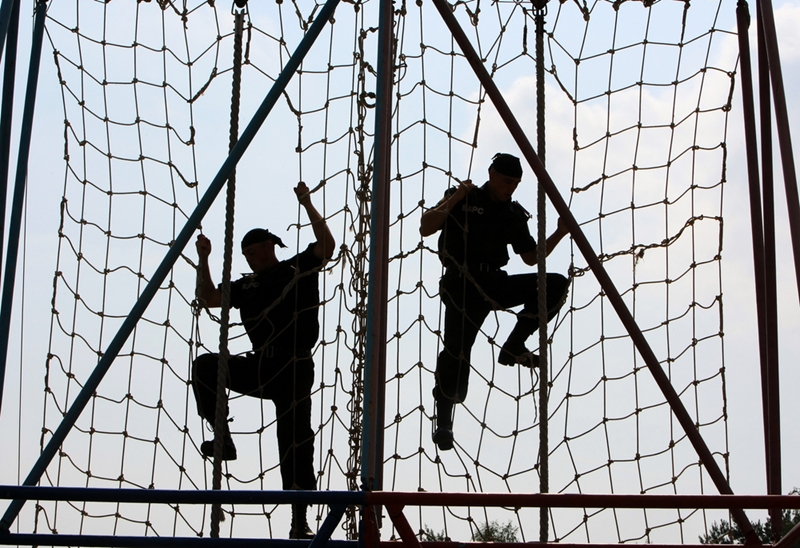 Training is only increasing
When communities face times of strife, training for the police force is often one of the areas that receives additional attention, funding and time. The Chicago Tribune recently profiled such an effort, with the Chicago Police Department committing to new courses for every member of the force, from trainees in the academy to veteran officers. These individuals are gaining a refreshed grounding in tricky and essential practices that could end up saving lives in high-tension situations.
For example, the Tribune noted that Chicago police are set to receive instruction in performing counter-terrorism operations, confronting individuals with mental health issues, defusing tension and more. Knowing that someone is familiar with extreme and dangerous situations, and has received instruction on specifically how to deal with them, is one of the benefits of selecting police officers for work outside of their on-duty hours.
The time and money committed to enforcing these new competencies can be impressive. In the Chicago example, there will be 16 hours of training per officer in 2018, with 24 in 2019, 32 in 2020 and 40 hours thereafter. Agencies that work with police officers gain the benefits of hiring people who have prepared extensively for many different elements of their varied and demanding jobs.
Hiring peace officers can be simple
Off-duty police hiring can be simple or complex, depending on how employers go about it. When a company decides to hire a number of officers on its own, it will end up working on complex financial and tax documents, or dealing with liability and insurance issues in case anything goes wrong while the personnel are on-duty. Working through a third-party agency can make these potential woes go away.
Companies that offer off-duty police services can do so with simplified contracts that are based on simplified periodic payments, with the behind-the-scenes accounting handled by the third party rather than the company in need of help. These agencies ensure that the police personnel provided are commissioned and approved for off-duty work, and covered by comprehensive insurance polices that ease liability issues.